Office Chair Massage/ Event Chair Massage
Many studies have been shown that office massage can decrease stress and tension while also causing an increase in employee morale and productivity. It is also a great inexpensive way to show employees appreciation either for special occasions, to reward them, or just to show you care! Please give us a call or email for further details on time, amount of employees, etc.
Rates are $70.00 an hour per therapist (If the time required is more than 3hrs then rates will be discounted and fall under the "Event" category.)
*Tip for companies who haven't done chair massage* You don't have to pay for it all yourself! Some places will do a sign up sheet and employees can pay $1.00 a minute (minimum 5min/15 min maximum) for their chair massage, or you can meet them in the middle and pay for half. For example: everyone who signs up, gets a 10min chair massage, but they only pay $5, and the company pays the other $5. Also we are required by the state of Missouri to have proper and up to date liability insurance for ourselves and we do!
Event chair massage: Is typically a 4 hour to all day event for some cause or special occasion. (Examples: teacher appreciation, office dinner/night, nursing home, health and wellness day, etc.) Depending on duration and the type of event we can work with you to get a negotiable price to accommodate your needs.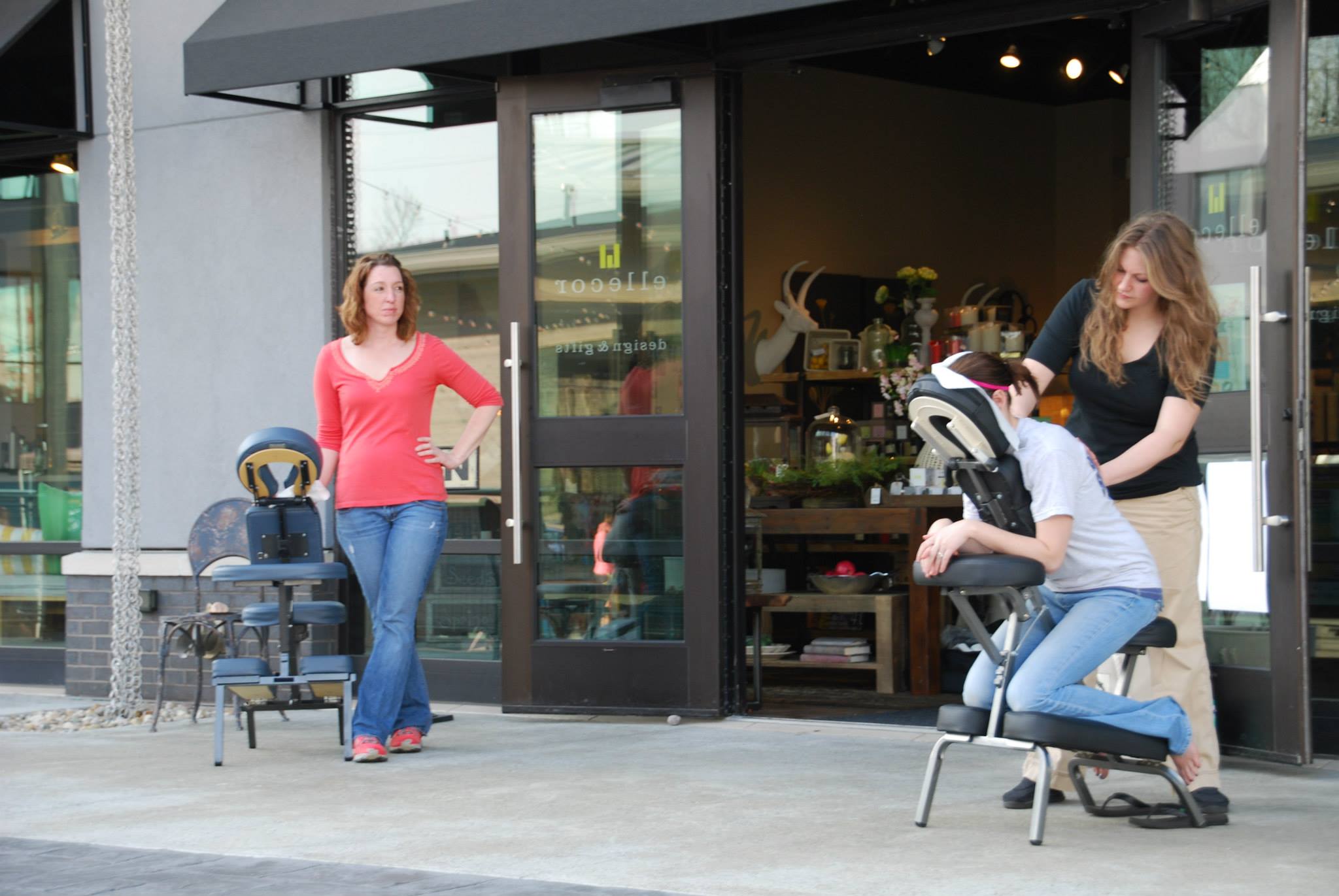 Sandalwood Spa Parties!
Have you always liked the idea of having a special occasion (or any occasion) party at a Spa, but wanted the whole place to yourselves? Well, now you can! We have 1400sqft of space and offer every service a "big" spa does. You and your group can make yourselves right at home and bring whatever food and drinks you like. In addition to the reception and treatment rooms, we also have an extra room that can be used to lounge in or set up a food/drink or gift table for your party. This room also has a TV with netflix, so if you have to bring your kid they can have popcorn and a movie! Between nails, esthetics, and massage, up to 6 people can be receiving a service at the same time, and/or we can set up a rotation where a few are in a service while the others can hang out, chat, eat, drink, be merry, etc. Please call or email to verify and set up appointments. Probably best to try and book no later than 2 weeks before you would like your party. Oh, and did I mention we are next door to the lovely ladies at POSH Hair Salon?! If you also need an up-do or blowout & style for your party, they will not disappoint!
For those that would rather a spa party at home...
If you have a group of 5 or more; we have some services that we can do, in home. You and your guests can choose between basic nail services, massage services, spray tanning, and certain basic facial treatments. Regular service rates apply; meaning no extra charge for us coming to you. We just ask that you book at least 2 weeks in advance.
In home massage is available for one or two person(s) as well. If you have an awesome deck and want an outdoor massage at your place that is do-able too. Please book a week in advance.
*Note:* In Home spa parties and In home massage are only extended to those we have already met, worked on, and established a sense of trust with.